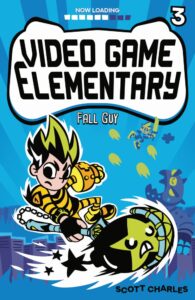 The Mid-Season Update has arrived, and there are a few minor bugs to stomp out. Literally! As school Custodian, the monster-hunting work falls to Connor. But after stumbling on a rare "Epic" Quest, the new Sabertooth fiends are the least of his problems …
ALERT! AN ADMINISTRATOR IS SUPPORTING THIS POWER!
Dr. Abigail Karsus, VP-P, VP-D, is no ordinary principal. Her eyes are sharp. Her laughter is wicked. And monster bones clink when she walks, thanks to her ghastly Bone Armor.
Connor's fourth-grade class is appalled. Is this VGL's newest Administrator or the Hidden Boss of a Graveyard stage?
Dr. Karsus insists she's just filling in. But a lot can go wrong in a short visit, as Connor and his friends soon find out. When a horde of Undead fiends storms the school, a shocking Quest Trigger asks an ominous question:
How do you defeat an Administrator?
Featuring:
Mana Pools! Fast Travel!
One Cantankerous Wisp
THE SPORTS GLITCH
New "Epic" Loot and Abilities.
Zombies. So. Many. Zombies.
Don't miss out. The legend of Connor Lamb is heating up!
Available Now!
Ebook (Kindle Unlimited)