NEIL ARMSTRONG. MARCO POLO. STEVIE MORRIS!?
In this hilarious Video Game Elementary spinoff, one boy boldly goes where LITERALLY NO ONE has gone before, not even Atensoft's beta testers!
For 11-year-old Stevie Morris, life is good. Life is really good.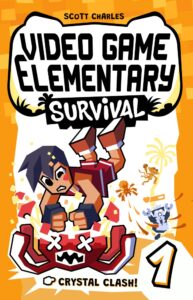 Be a multi-billionaire? ✔️
Live alone in your own private guest house? ✔️
With a rooftop Jacuzzi? ✔️
And every game console imaginable? ✔️
Who needs fifth grade when you have five robot butlers to boss around? That's Stevie's opinion, anyway! But when strange noises draw him to a mysterious room at the edge of his estate, Stevie's perfect world is unexpectedly plunged into chaos. And… pixelized!?
WELCOME TO VIRTUAL GUIDED LEARNING
It's online school … leveled up!
In the blink of an eye — and the zap of a top-secret mainframe — Stevie is transported into a video game!
Forget rooftop Jacuzzis. Now he's roughing it in Minecraft-style virtual world where monsters roam, Players have limited Hit Points, and his robot butler wields ridiculous superpowers. Oh, and did he mention he's being forced to attend a special "in-game" elementary school? At least, that was the plan…
WARNING! CORRUPTION DETECTED!
Something is very wrong at Virtual Guided Learning. Safety is definitely not guaranteed when Stevie's fifth-grade orientation is overrun by shell-slinging Squidders, Krab-lobbing Monkeys, and the looming threat of Spider Mummy, a boss mob as tall as the sky.
If Stevie wants to survive, he'll need to put his gaming skills to the test, with help from his bossy robot, Rubes, and a mysterious, savage Player whose fighting skills are as grand as her appetite. Still, it won't be easy. As legends say, once Spider Mummy sets her eyes on a target, there's only one outcome…
Don't miss this thrilling, laugh-out-loud spinoff, full of secrets for the Video Game Elementary series!
"STEVIE MORRIS IS HILARIOUS! " –Stevie Morris
Available Now!