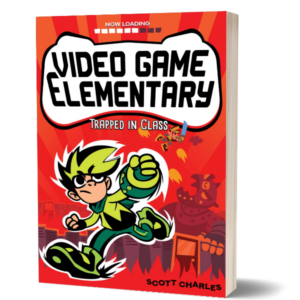 Rare loot drops? Monsters in the hallways? An after-school swords team?

Welcome to Video Game Elementary: it's online school, leveled up! New in 2022, this epic, easy-to-read chapter book series reads like your favorite cartoon come to life. Perfect for Minecraft fans, or anyone who's ever dreamed about "leveling up" during recess or after-school sports.

Connor can't wait for Swords Team practice. He has a new Wolf Buster Sword to try out. That's a C-Rank Melee Weapon. It took ages to grind!

But when his virtual classroom malfunctions, Connor finds himself re-living the same boring school day again and again. Worse, no one else seems to notice the difference!

What's going on? Will Connor ever make it to Swords Team? Or will he be trapped in his fourth-grade classroom forever?

AN EPIC ADVENTURE AWAITS


Something is rotten at Video Game Elementary. Join Connor as he embarks on a daring, not-really-teacher-approved trip across the suddenly treacherous VGL campus, which might just be under attack …

The world of Video Game Elementary includes:

+ Characters who gain levels, loot and abilities
+ A gaming-style Quest Log
+ Crafting and battle systems
+ A wide range of monsters to hunt (called fiends)
+ Thrilling, age-appropriate action (character deaths get you zapped to detention)
+ A sprawling, world-sized campus to explore.

Turn your gamer into a reader with Video Game Elementary.

Ages 6-10+